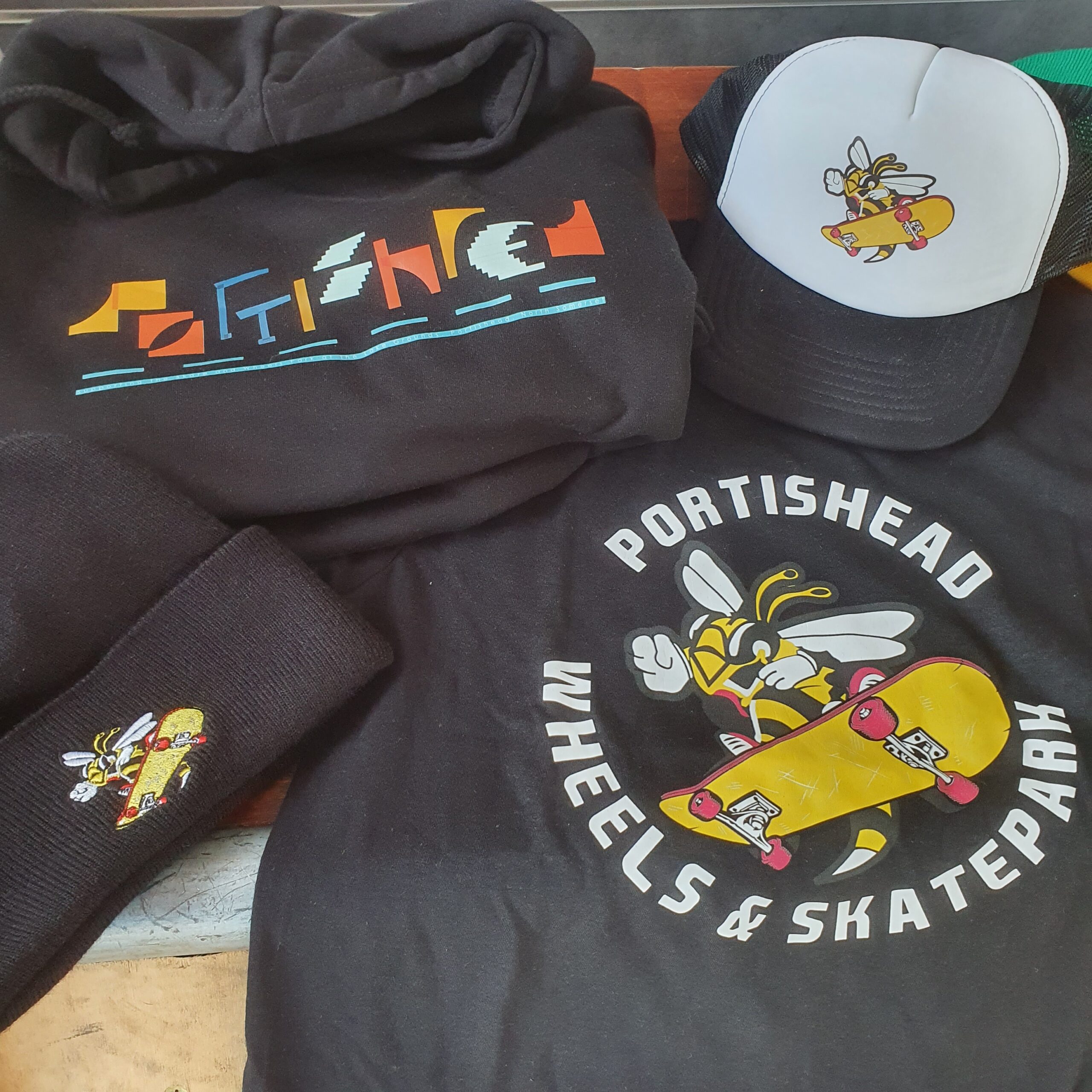 Teepig is proud to support the campaign to get Portishead a new skatepark.
As of July 2022 planning permission for the skatepark has been granted by North Somerset Council. Great, that's the hard bit done. Now it's time to get the funding. This is where Teepig is here to help the community.
An online Portishead Skatepark Crowdfunding page is set up to collect the generous contributions from members of the community.  The page, as well as the campaign, is managed by the Portishead WASP group. WASP is the acronym for Wheels And Skate Park.
With each significant contribution comes a reward. So  a £25 donation can reward the contributor with a printed Trucker cap or T-shirt with the WASP logo or the 'Portishred' logo. The latter designed by Sam Roberts. Sam, a graphic designer now living locally in Clevedon, won a design competition to come up with the apparel logo for the campaign. By wearing your WASP hoodie, caps beanie and T-shirt you will help spread the word.
It's been a long time coming and now closer than ever. Along with community funding the WASP group is applying for grants to push the project over the line.
If you would like to make a donation to the skatepark Crowdfunder you can do so here. Once you have chosen your reward it will be processed at Teepig. Then available for collection at SK8 or Die skate shop, Portishead. Where you can also find some of the cheapest, or should I say 'best priced' skateboards, scooters and roller skates in the whole of the UK.

Teepig Services
Teepig provides an embroidery and garment printing service for Portishead, Clevedon, Bristol and surrounding areas. We provide custom printed T-shirts and custom printed hoodies for business or personal use. Moreover, Teepig assists with your designs. Furthermore Teepig will give you great advice on which T-shirts and hoodies are best for you. Because of the vast variety, Teepig will help you choose the right T-shirt. While custom T-shirts and custom hoodies are our bread and butter, Teepig also provides custom embroidered beanies and caps.  Additionally custom polo shirts, golf shirts and golf towels is within our remit. Design custom T-shirts online or give us a call on 01275 840033.