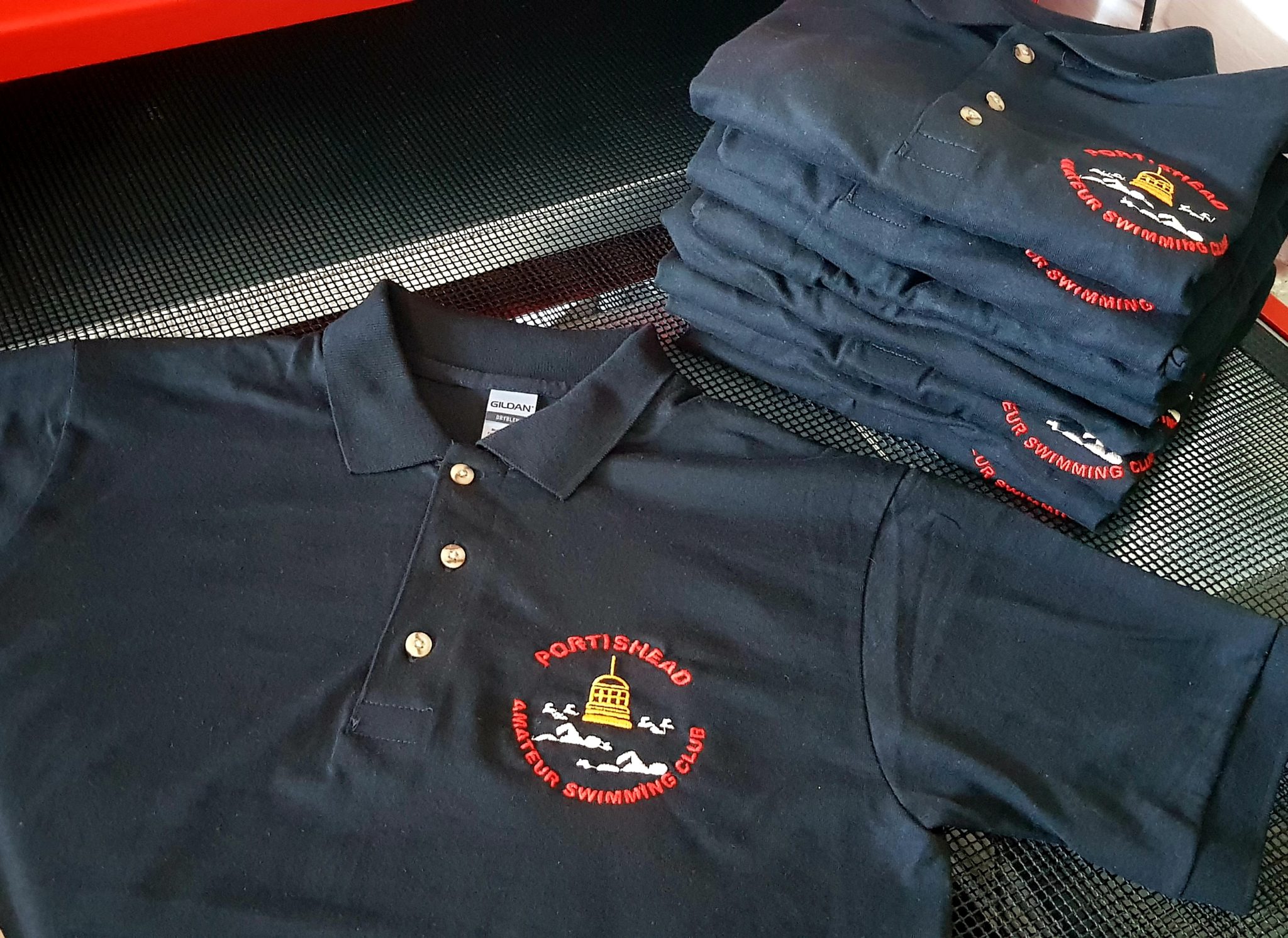 Just completed: The Portishead Amateur Swimming Club polo and T-shirts.
Not all of our orders come from online. As we are based in Portishead we also serve the town and wider community for garment printing.
The Portishead Amateur Swimming Club got in contact about new polos for the teachers and new T-shirts for the volunteers.
The polo shirts required embroidering although the artwork on the previous shirts only existed on the shirts! That means the logo had to be redrawn.
You see, that's another service Teepig offers. We can design or edit new or existing artwork for your club attire.
Sometimes doing things the old fashioned way is the only way to get exactly what you want. Even though our online designer can be quick and easy to use, with plenty of great garments to choose from, sometimes you need a little advice on what's best.
Choosing the right polo shirt.
In this case, someone from the club contacted us to ask what polos would be ideal for embroidering on the front and printing on the back. We offered the Gildan Dryblend for its sweat-wicking properties. Standing on the side of the pool can be hot work so a polo that helps you keep cooler would certainly top the pile.
We embroidered the left breast logo and printed 'Swimming Teacher' on the back using the sublimation process. The yellow text contrasts very nicely with the black of the shirt. Even the colours of the embroidery was changed slightly from the previous shirts for aesthetic purposes.
The colour chosen for the volunteer T-shirts was light blue. The style was the Gildan premium T-shirt. A decent quality tee that isn't too thin nor too thick.
The Swimming Club polo and T-shirts were ready within the week!
Who can benefit?
Sports clubs, committees and community groups can all get their custom embroidered polos and printed T-shirts from Teepig. Also, Advice on garments and decorating techniques is always given freely and happily. Teepig prints club polos and T shirts professionally in full colour with amazing detail.