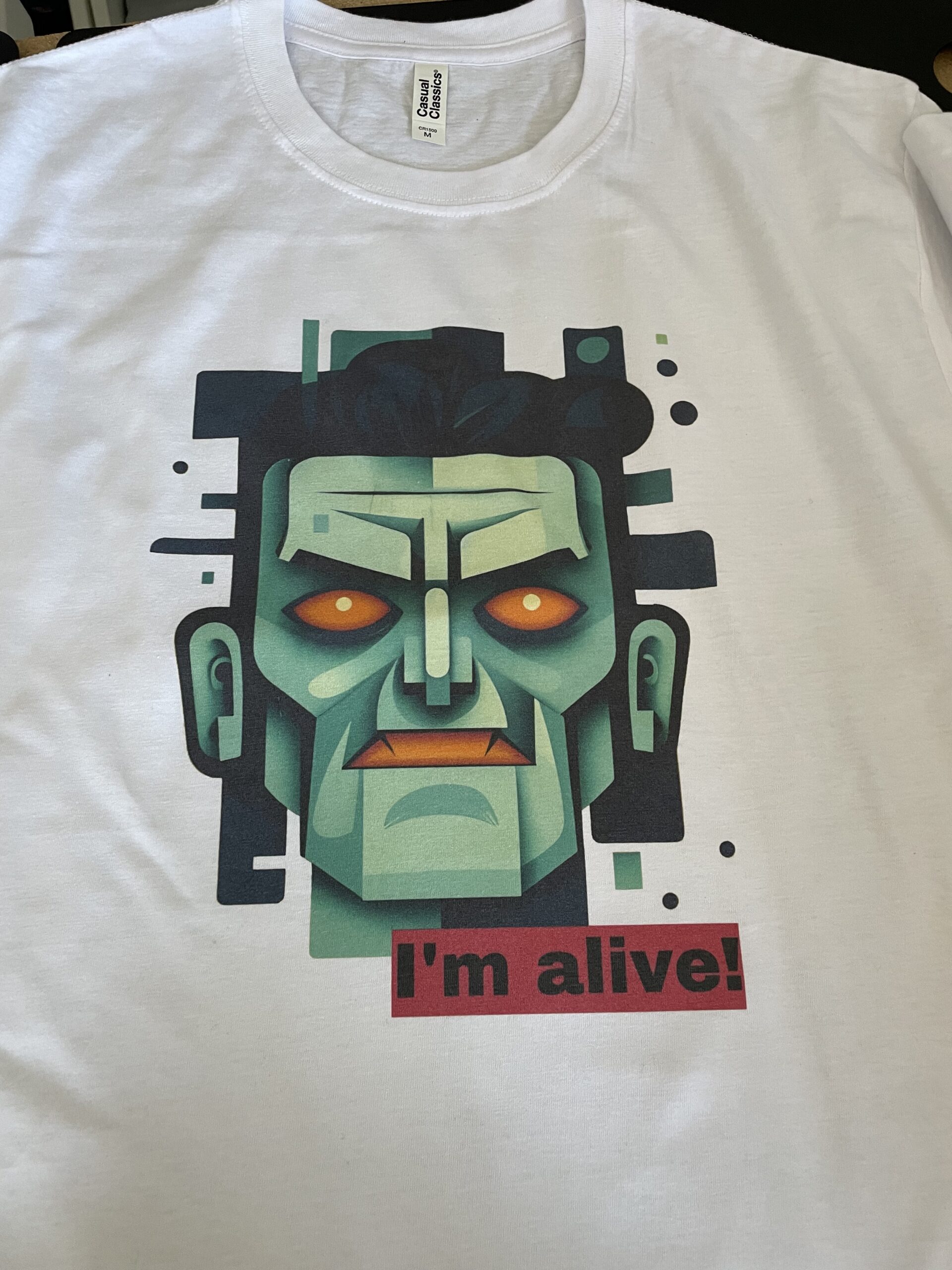 With price rises in every aspect of our lives right now Teepig is happy to declare that our basic custom t-shirt is still only £10. We toyed with the idea of increasing the price inline with our own rising costs but decided that we still want to offer unbelievable value for a £10 personalised T-shirt.
Oder your £10 custom T-shirt now by uploading your own artwork or design online here.
The basic T-shirt is a perfect choice for when you need cheap custom T-shirts for one off events and promotions, birthday parties, joke presents, silly birthday gifts, workwear, team building exercises, and a load of other reasons.
What you get with a Basic T-shirt
If you go for a basic T-shirt you can expect to receive a ringspun cotton T-shirt of about 150gsm printed professionally, up to 29x40cm in full colour either on the front or back.
You can have your own design printed on a T-shirt, a photograph printed on a T-shirt, text and logos, artwork, kids' pictures, quotes, the list is too extensive.
Not only are we at Teepig freezing the price of a basic personalised T-shirt we actually improving the quality of the T-shirt too. Previously we were using Fruit of the Loom Original T-shirts as our basic style. Opinion here, but I quite honestly believe it's the original style that gives Fruit of the Loom a bad name amongst some. This is because the Original, however cheap, is a far cry from the Fruit of the Loom Premium T-shirt. Or as it's now named the 195 Iconic. This remains a recommended and used style.
We do believe it's important to have a clear difference between our basic T-shirt style and the next choice up. However that doesn't mean we are offering an inferior T-shirt and print for only £10. On the contrary, the Casual Classics 150 T-shirt is comparable to our most popular T-shirt, the Gildan Softstyle.
The main difference when it comes to the printing process is that our basic T-shirt is not pretreated, where as the premium, softstyle and other styles are pretreated. This means that before we lay down colour we pretreat the T-shirt. The result is a more vibrant print. Not only that but the print lasts longer too. It can survive several washes and still look great.
Alternatives to Basic T-shirt
The next choice up in standard is the Softstyle. As mentioned before, there isn't a huge amount of difference between the T-shirts, just the pretreat. So if you're looking for a great value T-shirt which you'd like to keep and wear for as long as possible then this is a good contender. Our top recommendations for quality T-shirts are the Anthem Organic and the Premium.
For some hints and tips of how to order please have a read through our FAQ's.