Description
Choose A Colour, then away you go...
Design your Portishead skatepark T-shirt here. Choose any colour T-shirt to suit your design. If you have a design already you can upload and place it. Or you can use the online design feature to create something cool.
Enter the competition for free!
The winner will receive a T-shirt with their design printed on it! Closing date is 12pm on Sunday 6th March! Good luck and we can't wait to see what you come up with.
To enter, choose your T-shirt, upload your design or design online and process it as an order. We will then receive your entry.
The crowdfunding page for the Portishead Wheels Park is now live!
It's been a long time coming but thanks to the diligent WASP group of Portishead and park developers, Maverick funds are starting to come in. The target of this money raising mission is £50,000. Yes, the total cost of the park will eventually be a lot more but Portishead Town Council have pledged to match community donations up to £50,000. That's why it's important that we, the Portishead community, raise as much as we can by the middle of April.
As the money raising continues the project will also be progressing to the planning application stage. The skatepark will be built at the Portishead Lake Grounds between the cafe and the boathouse. You can see the 3D animation of the proposed design here.
Maverick Skateparks were chosen to partner the WASP group as the company specialises in state of the art, sprayed concrete skateparks. Maverick has built some of the very best skateparks around the UK. These include Concrete Waves of Newquay and more recently the St. Ives skatepark.
The best way to get involved is to donate. Rewards for donations start at £25 for caps and T-shirts. If you can dig a bit deeper then £250 will get you your own personalised ceramic tile set in the skatepark. You can sponsor a palm tree for £500 or even have the skatepark named as you see fit for £10,000.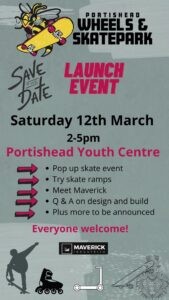 Be sure to drop in to the skatepark launch event on Saturday 12th March at the Portishead Youth Club. This is where you'll be able to meet the WASP committee and Maverick. You'll also be able to ask questions on the design and build. In addition there'll be a pop-up skate area with half pipes and grind rails.
You can find out more about the project, news and events on the WASP website.